She's Stronger Than She Looks
Feb 03, 2015, By: Audrey
She's stronger than she looks.
Ever tried to memorize 30 people's names in one sitting? If you have done so successfully, please teach me your secret. As for me, I recently had to rely on scribbled notes, surreptitious photos, and subsequent flashcard reviews to learn our church member's names.
Waaaaay back last August, our church here in Hasuda held a lunch in our honor after the service one Sunday to welcome us to the congregation and community. One by one, each person stood and introduced himself or herself, commented on their favorite places in town, and sometimes shared other advice. Several offered, "If you need anything, let me know…" but one little old lady specifically said, "If you need any sewing done, please ask me."
A few weeks ago, I found myself in need of a sewing favor. Having forgotten this dear lady's name, I had to scramble through pictures until I recognized her and could match her to my notes. The next Sunday, armed with a few new sewing-related vocabulary words, I approached Mrs. A to ask for help. She seemed happy to have been asked, and promised to have the clothes back to me the next week.
A couple days later, I realized I needed to change what I'd asked her to do, but I had no idea how to contact her about getting it back that afternoon. I wrote to our pastor, but he's quite busy and didn't end up getting back to me until the next day. When I received his email, this is what I learned about Mrs. A.
She lives with a daughter-in-law who is hostile to Christianity. In fact, she is so hostile that no one from church is allowed to contact Mrs A at home. If she were to receive a phone call or visit from someone who identifies himself or herself as "Hi, I'm Audrey from Hasuda Church," it's likely that the daughter-in-law would make it impossible for Mrs. A to come to church at all. Not even our pastor can call her.
I'm still wrapping my head around the reality of her home and faith situation. I never imagined that the little old ladies in the pews might be facing daily persecution from family members. I didn't think that their ability to participate in weekly fellowship might be undercut at any moment on the whim of someone close to them. I totally underestimated the reality of being part of the less than 1% of the Japanese population who follow Christ.
And yet, Mrs. A continues to pray and to praise. She joins in fellowship, serves church lunches, and helps with special children's outreach events. You couldn't tell just by meeting her that she is alone in her home in her faith.
I'm praying for Mrs A now, and for her daughter-in-law. Would you pray, too?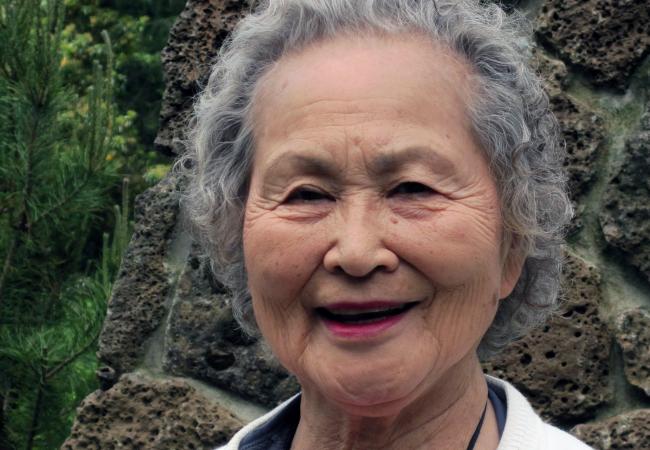 Japanese grandmas—stronger than they look. (This is a Japanese grandma, but not Mrs. A. I wanted to protect Mrs. A's privacy.)